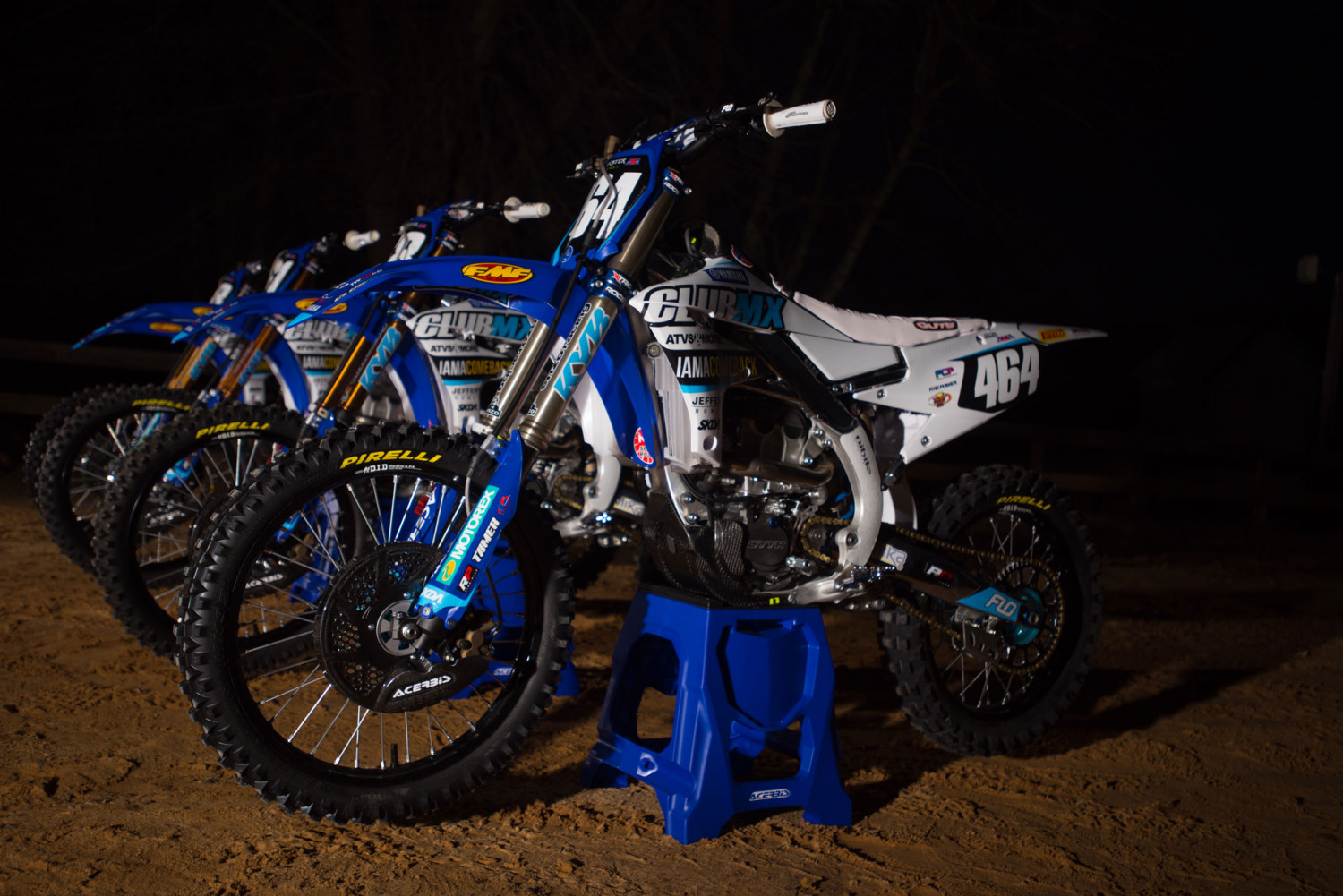 The transitions at the end of the regular season were anything but silly with the departure of some big teams from the paddock. That does not deter the ClubMX Pro Race team from gearing up for 2021.

ClubMX has a unique situation that positions the team for a long term run in the sport. It all starts with a training facility for racers of all skill levels. Based in Chesterfield, South Carolina, the ClubMX facilities are located in the perfect spot for riders in the Northeast, Midwest and Eastern seaboard to be on sight in less than twelve hours. Across the country there are fewer places for kids to ride, giving them less opportunity to learn the techniques needed to safely participate in the sport. The rise quality training has been relegated to facilities such as ClubMX to fill that void and help propel the sport.

Next, ClubMX has a spacious public practice facility for riders of all ages and skill levels. Not everyone has the time, desire or budget to immerse themselves in a training program so ClubMX offers them a very affordable and flexible option. People can come out for a few hours, days or weeks to get out of the cold weather and inhospitable climate of the north to just enjoy riding their dirt bike.

Put those two facilities together and you have a crop of very fast racers, making the next logical step a privateer pro team. There has been some serious talent that has passed through the gates of ClubMX including Zach Osborne, Justin Brayton and Phil Nicoletti just to name a few. Giving racers the stepping stone to the pro ranks has always been the desire of owner Brandon Haas and the 2021 Supercross season will be his best effort.

"We have built a good team model for the sport with a very diverse line up of racers this season, all champions in their own right. As a group we want to offer a slightly different approach to the way a team operates by being more transparent with the fans and the media - without either of them, we wouldn't exist." said Haas. We will start the season off on the West Coast rounds of Supercross with our four main riders:
The question most commonly asked is "why is he at ClubMX?" The answer is quite simple: he has a comfort level there. Success in this sport is not all about skill or speed. The racer needs a complete level of confidence in his equipment and surroundings to round off the mental aspects of the sport. Marchbanks has spent plenty of time training at ClubMX long before he was a household name and a 2020 Daytona SX winner so the return to ClubMX is somewhat of a homecoming. When asked how he reached the decision to return to the team he said "When my contract wasn't renewed, I could see the disruption in the sport. I wanted to race for a team I was comfortable with and if I waited too long there wasn't going to be a seat to fill. You saw what happened to those other teams after I signed my new deal so I am very happy with my decision. Just for the record, even though ClubMX is a privateer effort, don't underestimate us. The bikes are fast, the training is serious and we're excited about the upcoming season".
Arenacross is no joke and Jace Owen has the scars to prove it. Having won two championships in 2019 Owen saw the next logical step was to find success in Supercross. "I've spent a ton of time at ClubMX so I'm familiar with the program. It was an easy decision for me to race for them because I know the equipment is on point, the training opportunities are endless and the support is unmatched. Every possible excuse has been eliminated so I just need to focus on myself and the effort I put in." Owen is very well traveled with success in Australia and France in the recent years. That experience along with his maturity will lead to some good results this season.
When you are the FIM European Supercross Champion and you want to test your skills at a higher level, you pack your bags and head to America. German born and raised, Thury took the gamble on himself, made the move and landed at ClubMX. He has immersed himself in the culture and has taken the job seriously focusing on his future. "I am definitely committed to making my time in America productive and rewarding. I would not be here if I didn't think I could succeed. I am grateful to everyone at ClubMX for giving me the opportunity and I plan to show them it was worth the gamble." said Thury.
Crown made a big splash when he won the 125 class at the 2019 Red Bull Straight Rhythm. It certainly wasn't his first time handling the pressure as his amateur career and even his international races have resulted with loads of success. You could see the potential at the start of the 2020 season and now that he is surrounded by some very fast teammates he is looking forward to racing starting up once again. "The atmosphere at ClubMX is awesome and it makes a huge difference when you train with really fast guys. It is the complete package here and it's on me to make it work" said Crown.

2021 may seem like the wrong time to go "all in" as a race team but Haas has a good strategy in place along with a very diversified portfolio of supporters in his corner. "Like with any business model, you don't want to have one single customer or in our case one single partner to be more than twelve percent of your overall income. That could be a recipe for disaster if something goes wrong with one entity. We have a solid strategy in place and by owning the training and practice facilities, it gives us a unique model to activate our sponsorships" said Haas. So it is off to the races as the season ramps up in mid-January.